Successfully funded!!! & Stretch Goals!!!
Happy Thanks giving!
We would like to thank all of you! With your great help, we have reached our goal! What's more, many major media has reviewed or reported GO2SLEEP!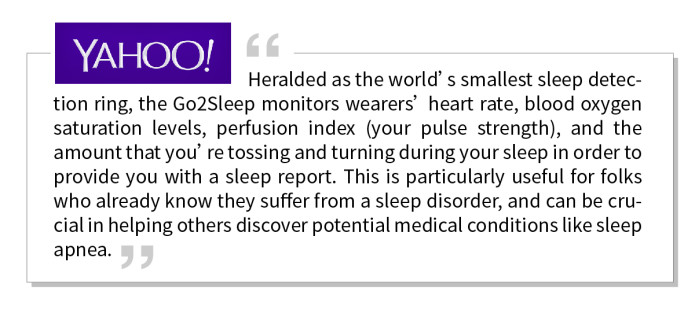 Your support gives us a lot of motivation and reaching goal in such a short term gives us lots of confidence. Our mind has never changed-help improve your sleep quality and solve your sleep problems, further increasing your quality of life and gaining you a healthier body.
In order to make our project more meaningful, we stretch our goals. Once we reach $50,000, we will give away 5 rings to patients in Sleep Therapy Institutions, and when we reach $100,000, we will give away 10 rings to patients in Sleep Therapy Institutions and so on. We are actively contacting with several institutions right now, and if there are any appropriate institutions around you, please feel free to recommend and contact us.
Stretch Goal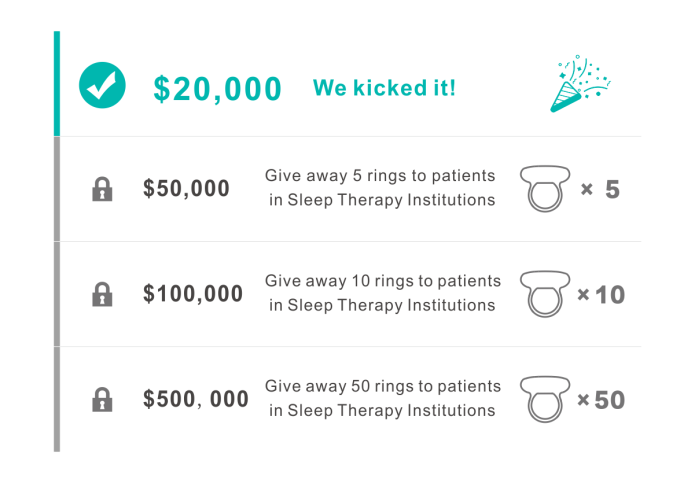 ​
One click below buttons to quickly share around
Please share this information through your Facebook and other social media accounts to let more people know it, even though you might not need GO2SLEEP, you can still help other people to benefit from it. We really appreciate that. Each ring you buy not only benefits you and your family, but also quietly helps other people who really need it.
Veteran Care
Veterans suffer from sleep disorders four times more than normal people. We want to help if you are a veteran. Just send your Veteran Certificate copy to veterancare@sleepon.us. we'll give a special discount to you.
If you are not a Veteran, please share this around to help Veterans!!!One click below buttons to quickly share around
In case any of you do not know how to place order on indiegogo, here is the steps:
1, find the button "Back it" or any of the perk, find "GET THIS PERK"
2, Then finish the payment process.
Very similar with the traditional online shopping!